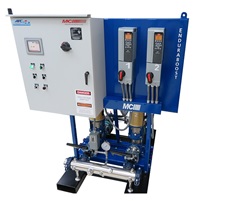 MCI Booster Municipal Booster Pump Station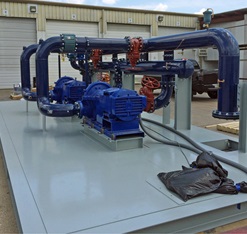 MCI Booster Pump Station
Water Booster Pump Systems
Flow N Control offers complete water booster pump packages from Motor Controls, Inc. (MCI). The company manufactures high performance booster pumps and related equipment for wastewater treatment and other water control and handling applications. MCI's water booster pump systems can be found all across the United States and all around the world.
Request a quote on MCI water booster pump packages. Contact Flow N Control to learn more.
MCI Water Booster Pumps
MCI's water booster pump packages provide everything you need for a complete solution. These systems include the pumps, control panels, and everything in between, and are easily tailored to your unique performance and application requirements. From simple setups to complex, multi-pump systems, MCI can provide the ideal water booster pump package for any facility and any need.
Features & Benefits of MCI Water Booster Technology
Complete systems include pumps, starters, timers, controls & more
Controls-only options available
Customizable to meet your requirements
ISO 9001:2008 certified
Manufactured to UL508a, 698A, 778, 1640, 50, 891 & CSA standards
Surge arrestors and/or short circuit protection to safeguard electronic components
122°F (50°C) outside temperature, non-direct sunlight
Heavy duty construction
30-plus years' experience
Contact Us for MCI Water Booster Pump Packages
We are an authorized manufacturer's representative for MCI. Our team of experts will help you find the right water booster pump solution for your facility's needs. Request a quote on a water booster pump package, or contact Flow N Control to discuss your wastewater handling and control application.