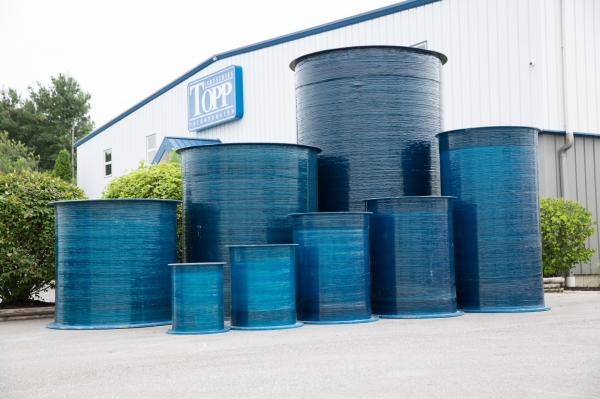 Fiberglass Basins
Fiber Glass Wetwell Basins & Valve Vaults
Flow N Control is an authorized manufacturer's representative for TOPP Industries, which allows us to offer their industry-leading fiberglass wetwell basins and valve vaults. TOPP designs and manufactures premium quality, environmentally-responsible basins and vaults that customers all around the United States have come to rely on for wastewater, sewage, and sump applications.
Request For Quote on TOPP wetwell basins and/or valve vaults. Contact Flow N Control to learn more.
TOPP Wetwell Basins
TOPP Industries' fiberglass wetwell basins are manufactured from the highest quality materials and are proven to meet or exceed all applicable industry standards. We offer TOPP's chop-hoop filament-wound wastewater basins are available in a range of diameters and configurations, as well as in one-piece lengths up to 35'. Numerous accessories are also available.
Available in 18", 24", 30", 36", 42", 48", 60", 72", 96", and 120" inside diameter
Various one-piece lengths available, up to 35'
Covers, extensions, sealing kits, and other accessories available
Triple Garage Basins
TOPP's triple garage basins are design to handle volatile wastes generated by garage areas and similar facilities. Triple wetwell basins reduce the risk of volatile wastes entering sewer systems, where they could potentially cause an explosion. A unique baffle structure allows volatile wastes to float to the surface, where they can safely evaporate and be vented into the atmosphere.
TOPP Valve Vaults
Constructed with a special anti-flotation flange, TOPP Industries' fiberglass valve vaults are designed to house wetwell basin valves, thus eliminating the need to enter the wetwell for maintenance. Valve vaults include rubber no-hub connections, discharge piping, check and shutoff valves, 90° elbows, cross, and an emergency pump out feature.
Piping and valve assembly available for installation in the factory or in the field
Discharge piping available in stainless steel or Schedule 80 PVC
Check & shutoff valves available in stainless steel, brass, or Schedule 80 PVC
1-1/4", 1-1/2", 2", and 3" kits available
Contact Us for TOPP Wetwell Basins & TOPP Valve Vaults
Flow N Control's expert team can help you find the right wetwell basin or valve vault for your specific needs. Request a quote today, or contact us to discuss your unique wastewater application.