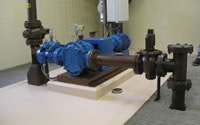 LobePro Displacement Pumps
Positive Displacement Pumps
Flow N Control offers top quality positive displacement pumps from LobePro. Positive displacement pumps are the only thing LobePro does, and they do them better than anyone else in the industry. Using advanced R&D and 40-plus years of experience and expertise, LobePro's positive displacement pumps deliver power and performance for even the most challenging wastewater applications.
Request a quote on LobePro positive displacement pumps. Contact Flow N Control to learn more.
LobePro Positive Displacement Wastewater Pumps
LobePro positive displacement pumps are ideal for a range of operations, including pumping sludge, mud, and viscous fluids, including those containing fine or corrosive abrasives. They can handle high solids content, multi-phase flows (those with high percentages of air or gas entrapment), shear-sensitive fluids, extremely high pressures, low flow applications, and nearly any combination of these factors.
Flow N Control offers a variety of LobePro positive displacement wastewater pumps, including S-Frame, M-Frame, and L-Frame (or small, medium, and large) models rated for up to 200psi maximum pressure and with capacity up to 2,656 gallons per minute. Pressure ratings and capacity vary by model.
Features & Benefits of LobePro Positive Displacement Pumps
Low shear
Measured flow
Self-priming up to 25' wet
Discharge pressure of 175psi
Capacities from 0-2,565 GPM
Low pulsation
Forward & reverse pumping operation
Long service life
Pump NPSHR (net positive suction head required) is 3' or less
Easy access to wetted parts for easy part replacement without uninstalling the pump
Compact, space-saving designs
Low maintenance
Run dry capabilities
Contact Us for LobePro Pumps
Flow N Control's is an authorized manufacturer's representative for LobePro, and can help you select the right positive displacement wastewater pump for your needs. Request a quote on positive displacement pumps, or contact us to discuss your specific pumping application.